About Us
About Us: Ring of Fire Science Company is a family owned business located in Oregon. The name of our company was inspired by the term geologist use to describe a ring around the Pacific Ocean. This area is home to 70% of the world's active volcanoes and 81% of the great earthquakes. Our company is located on the Ring of Fire.
We sell Earth science textbooks and science kits for students in elementary through high school. We are committed to providing science information and quality materials for students interested in science.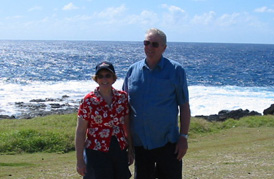 Author
Myrna Martin is the webmaster and author of the pages on Kids-Fun-Science website. She is also the author of over 30 science textbooks and hands on science kits that are sold at our Ring of Fire Science website.
The above picture was taken of Myrna and her husband Tom at South Point on the Big Island of Hawaii. It is the southern most point in the United States. Offshore a few miles away on the ocean floor of the Pacific Ocean lies the next Hawaii island, Loihi.
 Ring of Fire Science products

There are three levels of textbooks that we sell. Textbooks are available in printed, CD(digital form) and ebooks. All our science books in the form of Ebooks are all available on the CurrClick website. Printed textbooks, DVDs, rock kits and CD digital textbooks are available at Ring of Fire Science website.

Our science activity books are designed for students in all grade levels. There are 15 science activities in each book with a central theme. Each book also contains information about the science behind the activities.

Level 1 Units of study are designed for students of all ages interested in rock and mineral identification. These units contain video lesson, textbooks, quizzes, hands-on activities and rock kits. There are 12 lessons in each textbook plus hands-on activities.
Level 2 Units of study are designed for students in middle school and high school. They contain video lesson, textbook, quizzes and hands-on activities. There are 16 lessons in each of these units.
What others are saying about us and our materials

The American Federation of Mineralogical Societies Junior Chairman wrote an article for the A.F.M.S. October 2012 Newsletter about Myrna and her activity based science books. He urged all members to check out her materials because of the wealth of information for junior members of the society.
Myrna was named the 2007 Professional of the Year for Science Textbook Publishing Industry. She was also named one of the top 101 Industry Experts in 2010 by Cambridge who's Who.
More Charlotte Mason Education by Catherine Levison recommends our science materials for homeschooling families.
More Information About Our Website

Privacy Policy Find out about our privacy policy for this website.
Kids Science Home Page Return to our home page for a list of all the fun science topics we offer on this free website.
About Us Find out about our company Ring of Fire.
---
KIDS FUN Science Bookstore
Check out Myrna Martin's award winning textbooks, e-books, videos and rock sets.  The Kids Fun Science Bookstore covers a wide range of earth science topics.  Click here to browse. 

---