New Madrid Earthquakes

1811 - 1812
Introduction
The New Madrid earthquakes were a series of three very large earthquakes. The earthquakes were felt by people over about 1.9 million square miles in North America.
Comparing two earthquakes with
similar magnitudes, USGS
First New Madrid quake
The first major earthquake occurred on December 16, 1811. The earthquake epicenter was in northeast Arkansas. During the earthquake deep cracks in the ground formed and there were many landslides.
Waves on the Mississippi River
Huge waves on the Mississippi River swamped boats and seemed to make the river run upstream. People were awakened by the shaking in New York City, Washington D.C. and Charleston, North Carolina.
January 23, 1812 earthquake
The earthquake epicenter of the second major earthquake was near New Madrid, Missouri on January 23, 1812. This was the smallest of the three major earthquakes. Stream banks caved into the rivers and fissures opened up in the ground.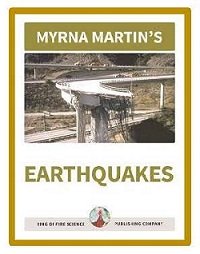 Click for More Information and to Order
Formation Reelfoot Lake
The third earthquake's epicenter on February 7, 1812 was near the town of New Madrid and destroyed it. Land dropped down forming Reelfoot Lake in Tennessee. Many homes were also destroyed in St. Louis, Missouri.
Other quakes in the area
According to one eyewitness there were some foreshocks, four large aftershocks and many smaller earthquakes in the region between December 1, 1811 to March 1, 1812.


More Earthquake Links
Earthquake Waves Earthquake waves are produced by the more than three million earthquakes each year.
1960 Chile Earthquake The 1960 Chile earthquake was a magnitude 9.5 the largest earthquake ever recorded!
Earthquake Faults Find out more about fault that go up, down and sideways!
Earthquake Focus Learn where the focus and epicenter of an earthquake are located and exactly what they are?
---
Haiti Earthquake The devastating Haiti earthquake occurred in a region prone to large earthquakes. Find out why these large earthquakes occur.
New Madrid Earthquakes The New Madrid earthquakes were a series of three very large earthquakes felt by people over almost 2 million square miles.
Kids Fun Science The links on our home page include information about volcanoes, science activities, plate tectonics, the rock cycle and much more.

---
KIDS FUN Science Bookstore
Check out Myrna Martin's award winning textbooks, e-books, videos and rock sets.  The Kids Fun Science Bookstore covers a wide range of earth science topics.  Click here to browse. 
---