1812 New Madrid earthquakes
1811 - 1812 new madrid earthquakes
Mississippi Valley earthquakes
Three of the most powerful earthquakes in the history of the United States struck the Mississippi Valley in 1811 and 1812. Four hundred residents of the town of New Madrid in the state of Missouri were awakened by a great roar and violent shaking.

Epicenter in northeast Arkansas
The earthquake occurred early in the morning of December 16, 1811. This was the first of three great earthquakes to strike the region that winter. The earthquake epicenter was in northeast Arkansas. Residents reported that cracks opened in the ground and they could see the ground roll in visible waves. Scientists estimate it was a magnitude 8.0 earthquake. Aftershocks continued during the winter.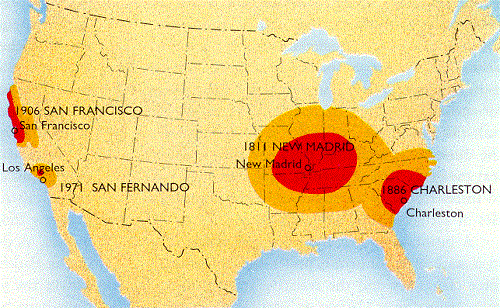 Comparing earthquakes with similar magnitudes. 
Waves on the Mississippi river
Steamboat New Orleans
The crew of the steamboat New Orleans was on its maiden voyage when the earthquake struck. The steamboat was moored to an island on the Mississippi River. The next morning the crew found the island had disappeared.

River appeared to run upstream
Huge waves on the Mississippi River swamped boats and seemed to make the river run upstream. People were awakened by the shaking in New York City, Washington D.C. and Charleston, North Carolina.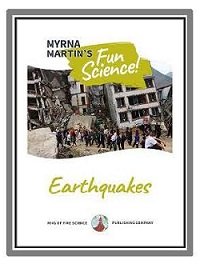 Click for More Information and to Order
Earthquakes in 1812
January 23, 1812 earthquake
Two other great quakes struck the area that winter, one was on January 23, 1812 and the last on February 7, 1812. Aftershocks continued throughout the winter damaging almost every home in the area.

Epicenter of the second major quake
The earthquake epicenter of the second major earthquake was near New Madrid, Missouri on January 23, 1812. This was the smallest of the three major earthquakes. Stream banks caved into the rivers and fissures opened up in the ground.
Formation Reelfoot Lake
The third large earthquake was on February 7, 1812. The epicenter was near the town of New Madrid. The earthquake destroyed the town of New Madrid when the land dropped down forming Reelfoot Lake in Tennessee. Many homes were also destroyed in St. Louis, Missouri during the earthquake.
Other quakes in the area
According to one eyewitness there were some foreshocks, four large aftershocks and many smaller earthquakes in the region between December 1, 1811 to March 1, 1812.

---
KIDS FUN Science Bookstore
Check out Myrna Martin's award winning textbooks, e-books, videos and rock sets. The Kids Fun Science Bookstore covers a wide range of earth science topics.  Click here to browse. 
---